Modelling at real scale
Among its services ISMGEO offers the possibility to create real scale models of structures equipped with sensors.
Some examples :
Gabion walls behaviour
Physical modelling of the behaviour of gabions submitted to vertical loading. Both confined and unconfined conditions have been simulated in the study with the target of measuring and compare resistance and deformability of these structures.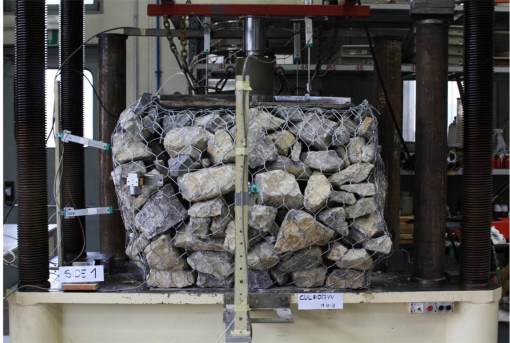 ---
Bituminous face-Rockfill interface for BFRD dam(Bituminous Face Rockfill Dam)
The bitumen-rockfill interface for the Nenskra dam (Georgia) has been tested in the large shear box.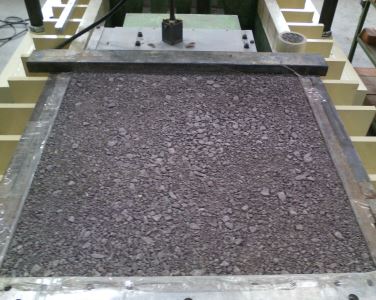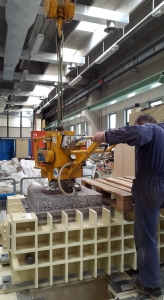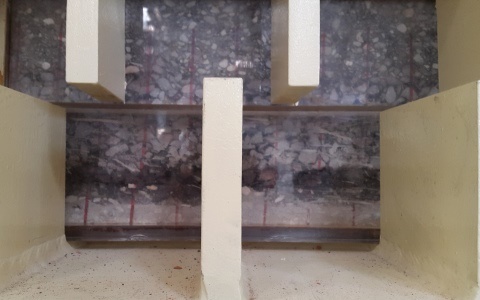 ---
Reinforced soil structure
Model of a "wall" at real dimensions (h=3.8 m, p=5.11 m, l=2.13 m) with sub-vertical facing (70° from horizontal) built with sand compacted in layers, reinforced with metal grids interlayered to plastic geogrids.
The reinforcement are equipped with strain gauges, displacement transducers are installed in the sand beside with load cells. A vertical load has been applied in a specific area of the top surface until reaching the global failure.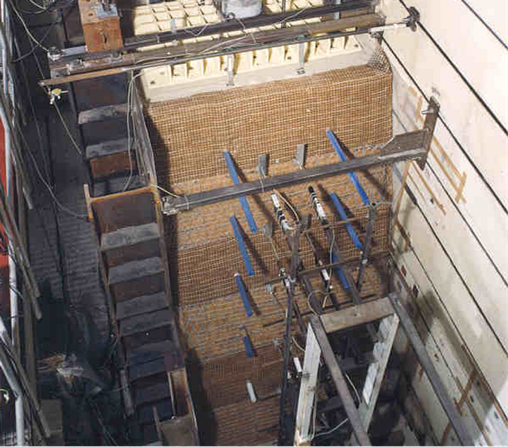 ---
Fatigue behaviour of reinforced bitumen macadam
Physical modelling of the behaviour of a plane section of reinforced road pavement submitted to vertical cyclic loads simulating road trafic. The presence of the metallic reinforcment reduces significantly the global settlement and delay the fracture opening.